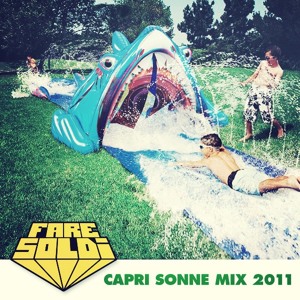 Capri Sonne mix 2011 by FARE SOLDI
I don't know if I have ever heard an electro masterpiece start out with a beat box. Fari Soldi take no time dropping into their "Yo! Raps Remix" of Mothers of Charleston song "
Taxi Driver
". From Beat Box to Hip Hop to Frisco Disco they get things started fast and furious.
I look forward to the Fare Soldi Carpi Sonne Mix every year. Its always jammed packed with their completely original and unique remixes. They also feature the hottest sounds out right now.
Case and point is the Roy Booge Brukup of Michael Jackson's "Remember the Time". Remember the Time is probably my least favorite Michael Jackson song. Something about the video left a bad taste in my mouth still many years later. I can't get the horrible image of Michael dancing around as an pharaoh out of my head. But when they dropped this track, I literally was frozen in disbelief. Not only was it good but it fit Fare Soldi's crazy ass sound perfectly.
Capri Sonne 2011 picks up right where they left it last year. If you start listening in your cubical make sure your co-workers are not around. Trust me, I have gotten more than one funny look as I fidgeted uncontrollably in my seat as Fare Soldi pumped through my headphones. I can't wait to get in my car, roll down the windows, turn it up and enjoy the open rode. I hope you enjoy this beauty of a mixtape as much I have in the past 24 hours...
Download it here
TRACKLIST:
1) Eklips - A Beatbox History of Hip-Hop
2) Mothers Of Charleston "Taxi Driver (Fare Soldi "YO! Raps" rmx)"

3) Senor Stereo "Hot Damn! (Kid SL Crafty edit) "

4) Bag Raiders "Sunshine" (Armand Van Helden rmx)

5) Pierre De La Touche "Song Of The Sirens (Louis La Roche rmx)"

6) Fare Soldi "Cassa Forte"

7) Moonchild "Love Birds" (Gigi Barocco rmx)

8) Hervè "Together"

9) MJ vs HC "Remember the time" (Roy Boogie's brukup)

10) Alan Sorrenti "Love fever"

11) Munk "Keep my secret" (Rory Phillips club mix)

12) Beyoncè "Crazy in love (Fare Soldi "Chiapponzilla" rmx)"

13) Broke One "Go go go (Russ Chimes Gunman rmx)"

14) ODahl "Out of Control (Justin Faust rmx)"

15) Toro Y Moi "New Beat (Fare Soldi "Cantatu" rmx)"

16) Swing Out Sisters "Breakout"